Now Open!!
Learn to kayak, paddle board, river surf, fly fish, bellyak and more at the NEW Chattahoochee Outdoor Academy in Phenix City on the banks of the Chattahoochee River.
The Academy will offer guests the chance to learn and experience an array of outdoor activities from top-notch certified instructors. Take a look at all the amazing activities we are currently offering.
Kayak Lessons
> 1/2 Day (Introduction to Whitewater) 4 Hours: $58.00
Anyone can learn to kayak! Instructors will first fit guests into their boat and gear with proper outfitting that makes them most comfortable. Next, essential river safety will be covered. Students will begin their whitewater training at Waveshaper Island by learning basic paddle strokes for proulsion and turning the kayak, along with high/low bracing. After learning to wet-exit and T-rescue, students will begin the roll section of their class. Rolling may take a few lessons to achieve depending on the student. To wrap up, students will test out Waveshaper!
> Full Day 8 hour class: $98
The first four hours of this course will be the same as the 1/2 day intro course. The students will then break for lunch and come back energized for some true whitewater fun! Pimberton Falls will most likely be portaged by beginners (instructors choice). This run will be all about learning how to maneuver your kayak in moving current. Students will learn how to ferry across currents, catch eddies, edging, river rescue, etc. Once paddlers reach Waveshaper, they will have the option to run it or not. From this point, the instructor will continue to work with students on how to stay upright in whitewater.
Stand-Up Paddleboard (SUP) Clinics & Yoga
> SUP Clinics (90 minutes): $49
Students will work with a certified SUP instructoron how to properly steer a paddle board
>SUP YOGA (75 minutes): $35 (Packages available)
The classes take place bu Waveshaper Island where you will hear the tranquil sounds of the rapids flowing. Doing yoga on a paddleboard is a fun way to connect your mind and body on water. It's a fun way to challenge your body and let go of the stress! All levels are welcomed and encouraged! It's a playful and outdoorsy way to practice yoga. Be prepared to fall in the water and laugh! Even the instructor falls occasionally! There is a weekly schedule that will be posted on Facebook so like our page for updates! You can also message us about private lessons! Email Katie at This email address is being protected from spambots. You need JavaScript enabled to view it., or send us a message on Facebook.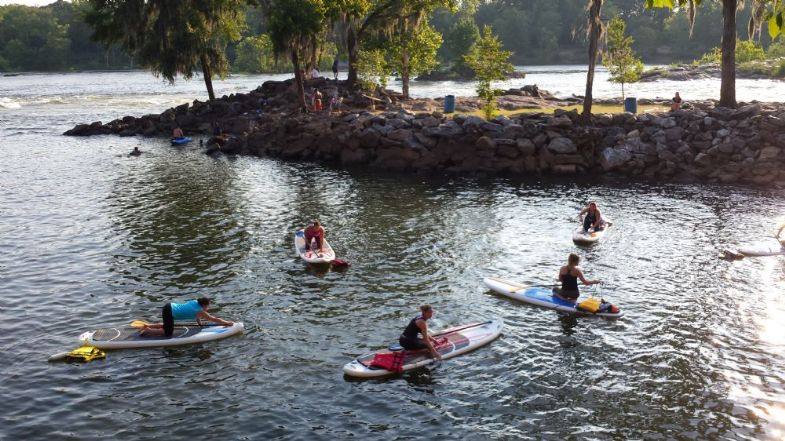 Bike Rentals

Rent a Bicycle and enjoy the great path around the Chattahoochee River Park area on the Chattahoochee RiverWalk as well as through Downtown Phenix City and Columbus areas.
Pick up a bike from the Phenix City location and enjoy the shade on our RiverWalk!
Rent a bike for 4 hours - $10.00
Rent a bike for a full day - $15.00
Whitewater Rafting!!
Access Rafting Times and Information for the Phenix City location by clicking below:
Fly Fishing
> COMING FALL 2014